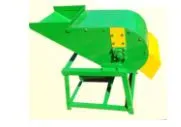 What is Agricultural Shredder ?
An agricultural shredder is a machine specifically designed for shredding or chopping agricultural waste materials into smaller pieces. It is frequently employed in the agricultural sector for a number of uses, including as managing crop leftovers, composting, mulching, and animal bedding. Featuring a combination of many powerful and durably finished blades, this Agricultural Shredder range we offer is built to suit heavy duty use. It's Maximize Livestock Waste Management with Efficient Agricultural Shredder Solutions from Trusted Manufacturers. Keyul Enterprise is the famed Agricultural Shredder manufacturers in Mumbai offer hi tech shredders that are designed with an aim to support the worldwide farming community, and safeguard the wealth of available land resources. The Agricultural Shredder in Patna, Panaji, Bhubaneswar, Surat, Cochin range we offer can be operated with ease by a single person and can be integrated in all models of tractors. It's increase Empower your small-scale farming with top-notch Agricultural Shredder manufacturers and increase Maximize your backyard farming potential with dependable Agricultural Shredder manufacturers. Our trained and passionate professionals work beyond the boundaries to keep an eye on every detail during manufacturing of Waste Shredder. It's Experience the best in farming efficiency with high-quality Agricultural Shredder manufacturers for farmers. Powerful designs are offered in all our Bio Shredder Cum Coconut Branches Shredder, Banana Shredder and Kitchen & Garden Waste Shredders. It's Elevate your organic farming with trusted and dependable Agricultural Shredder manufacturers.
Agricultural Shredder Main Features:
Fuel efficient & time efficient designs
Affordable prices and are fabricated to generate high value profit from various waste products
Durable bodies that give easy operation without fatigue
Can shred different types of grasses, bushes, leaves, kitchen waste, hotel waste, wood sticks & branches (about 20 mm), areca palm leaves, green coconut, coconut leaves & coconut shell
Can also shred dry material in to 2-3 mm size particles for suitable use in briquette making
Ideal for shredding wet, semi wet & even completely dry material
It's reach your sustainable agriculture aspirations with cutting-edge Agricultural Shredder manufacturers.
Suitable for use in creating organic manure
Available models are offered in 5hp, 7.5hp and 10hp electric motor
Drum size is of diameter 350mm X 350mm-14 inch and 475mm x 475mm-19 inch
Excellent shredding capacity of 200 to 1000 kg every hr
Can be fabricated as per clients' specifications
It's efficiently manage crop waste and improve your farming operations with top Agricultural Shredder manufacturers and Accelerate your composting process with top-quality Agricultural Shredder manufacturers for efficient results. Maximize your farming efficiency at a cost-effective price with India's affordable Agricultural Shredder manufacturers. Seeking to buy Agricultural Shredder in Jabalpur, Hyderabad, Hisar, Ahmednagar, Hubli? Fill out the enquiry form now or call us. We are the trusted Agricultural Shredder exporters and suppliers in India.