Maize Peeler Cum Thresher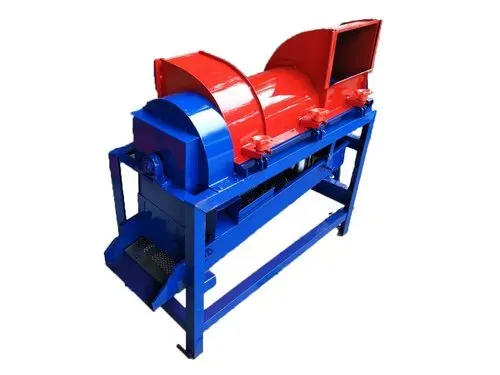 Keyul Enterprise is a reputed Combine Maize Peeler Cum Thresher manufacturers suppliers and exporters based in Mumbai, Maharashtra India. Get our best quality of Maize Peeler Cum Thresher in Mumbai, Cochin, Hyderabad, Lucknow, Belgaum, Surat and all parts of India at competitive price.
Avail innovatively constructed Maize Peeler Cum Thresher in Srinagar, Nagpur, Hisar, Meerut, Kanpur, Coimbatore from us that give proven performance when used for separating maize kernels from the cobs and can also be used for removing rachis. In the seed processing sector, especially in areas where maize cobs are harvested on large scale, these threshers find extensive use. After completion of processes like husking and cob drying, this Maize Peeler Cum Thresher is used to gently remove the kernels via rubbing the cobs against each other. Use of our threshers ensures the germination capacity & strength of sensitive maize seeds are not affected during the threshing process. You can also consider us to buy best quality of Wood Chipper and Wood Crusher machine.
Maize Peeler Cum Thresher Main Features:
Proven functionality at considerable speed
No breakage or damage to the maize seeds
Manufactured in rugged designs by experts
Low maintenance designs sold at competitive prices
Maize Peeler Cum Thresher Technical Specifications:
Output Capacity

Ideally driven by 540 PTO RPM Tractor

1500-2500 Kgs. of grains every hour.

High capacity machine that give savings on labor charges

Cleaning Fan facilitates fine cleaning of grains

Packing Details

4 Unis in a 20 FL & 8 Unit in a 40 Ft. container (semi knocked down)
Maize Peeler Cum Thresher Product Details
| | |
| --- | --- |
| Voltage | 415V |
| Power required (in hp) | 5 - 7.5 hp |
| Threshing Capacity (in kg/hr) | 1000 - 1500 kg/hr |