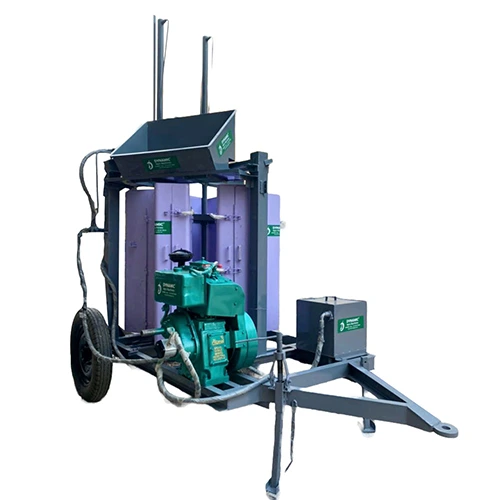 Best Silage Packing Machine Manufacturers In Mumbai,India
If you are looking for Silage Packing Machine In Mumbai? You are on the right page. Keyul Enterprise is one of the trusted Silage Packing Machine Manufacturers In India, Mumbai that offers top-quality Silage Packing Machines in Jalandhar, Srinagar, Indore, Panaji, Hisar, Belgaum that are used in the industry, agriculture, etc. This helps to preserve the nutritional value of the silage, making it an essential tool for farmers who want to feed their livestock the highest quality feed. The machine is typically compact, efficient, and easy to operate, making it a valuable addition to any modern dairy or livestock operation. We work on our toes to deliver exceptional solutions that are durable and versatile. We have enough experience and expertise to meet your customized needs. If you're looking for Agricultural Shredder, Hammer Mill, Waste Shredder Manufacturers, get in touch with us immediately.
Top-Notch Silage Packing Machine Manufacturers
We have an in-house manufacturing unit equipped with modern machinery and the latest technology that develops the best-grade products. Our well-trained experts never mind putting extra effort into supervising every detail during manufacturing so that you only receive the highly efficient and safe Silage Packing Machine in Rohtak, Hubli, Coimbatore, Nagpur, Kolhapur, Cochin. We are an ISO-9001:2005 certified company that understands the importance of premium grade products, so we never compromise the quality standard and pass our machines through various parameters. We strictly follow the industry norms and deliver inexpensive products in the town. Apart from this, we are the leading Cattle Feed Making Machine Manufacturers in India
Features Of Silage Packing Machine
Reduces the wastage of products
Packs the fodder in an air-tight tube to make it free from bacteria
Easy for storage and handling.
The operation of this machine needs no professional training
Easy to transport and install
If Convinced, Order Silage Packing Machine Now !
If you are convinced with our Silage Packing Machine, Wood Chipper explore our website to place your order. We are one of the well-known Silage Packing Machine Exporters, Importers, and Suppliers from Raipur, Ludhiana, Agra, Lucknow, Meerut, Vijayawada, India and have a comprehensive range of different shapes and sizes. As one of the trusted Silage Packing Machine, Wood Sawdust Machine Manufacturers in India, we determine your requirements to improve productivity. Get in touch with us to order the most suitable product. Take the conversation ahead with us. We are happy to help you. Drop an email or call us now. Click here to read A Guide to Purchasing a High-Quality Silage Packing Machine,