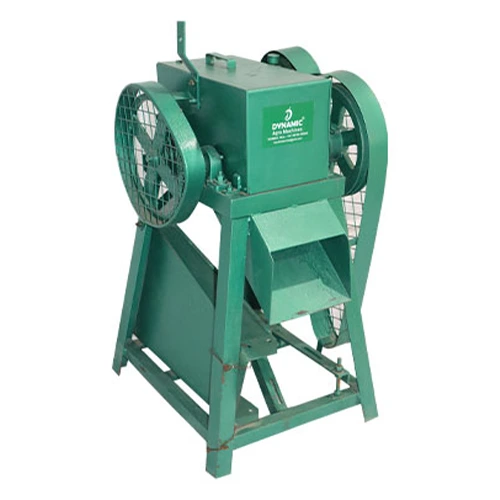 Keyul Enterprise is a reputed Horizontal Chaff Cutter manufacturers, suppliers and exporters based in Mumbai India. A leading manufacturer of horizontal chaff cutter in Hubli, Ahmedabad, Udaipur, Bangalore, which possess latest design which helps in increased efficiency and lower product cost. It's a farm machine used in agriculture to chop and shred crop residues, such as straw, into smaller pieces. These pieces, known as chaff, are used as animal feed. They are known for their efficiency, durability, and ease of use, making them a valuable tool for farmers. The cutting length is adjustable and can be altered by the clients, on basis of their application requirements. Its finishing is done using special paints, which gives it a glossy look, even after months of regular use. The applications of horizontally mounted chaffing and cutting machine include animal feed, boiler, dairy farm and others. We manufacture horizontal Chaff Cutter Machine using new metal frame and ball bearings, both of which are heavy duty type.
Horizontal Chaff Cutter Specification and Advantages
2 heavy duty roller for proper feeding
Blades are made of heavy-duty steel
Chaff cutter has latest design
Heavy roller is present along with Reverse & Forward switch option
Iron sheets are thick
Output of Horizontal Chaff Cutter
8 kg to 1000 kg with 2hp motor
9 kg to 1500 kg with 3hp motor
12 kg to 2500 kg with 5hp motor
Searching for buy Mini Chaff Cutter and Horizontal Chaff Cutter in Panaji, Vijayawada, Indore, Raipur, Bilaspur, etc, place your enquiry today.
Horizontal Chaff Cutter Product Specifications
Power Source
other
Machine Speed
1440 RPM
Technical Specification Of Horizontal Chaff Cutter
| | |
| --- | --- |
| Minimum Order Quantity | 1 Piece |
| Power | 3-5 HP, 5-7 HP |
| Cutting Capacity | >1000 kg/hr, >1000 kg/hr |
| Capacity (kilogram) | 1500/hr |
| Model | Horizontal model -8",9',12" |
| Voltage (volt) | 250 |
| Weight (kilogram) | 140 |