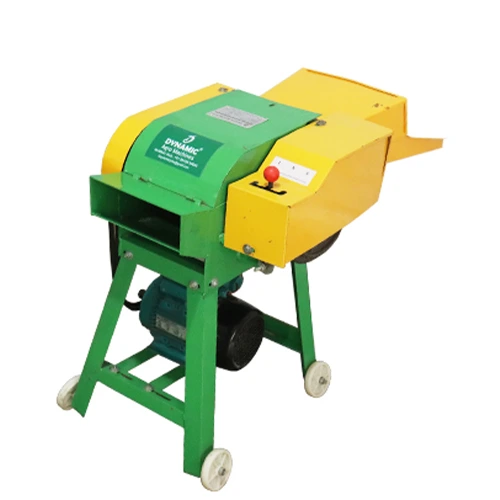 A mini chaff cutter is a small-size fodder-cutting machine. It is one of the best Agri Equipments for chopping all kinds of dry and green fodder into small pieces to make it easily fed to the animals such as cattle, sheep, horses, etc. Keyul Enterprise is one of the best Mini Chaff Cutter Manufacturers In Mumbai, Agra, Meerut, Patna, Ahmedabad, Jabalpur that offers top-quality Agri machines that are highly efficient in making digestible fodder. Our Chaff Cutter Machine is used by small-scale farms to chop dry or wet grass into small pieces. We blend our innovation and creativity to give you something unique that is helpful for the farmers.
Resourceful Mini Chaff Cutter Manufacturers
We have an in-house manufacturing unit to formulate the ideal designs with cut-edge tools and modern machinery. Our Mini Chaff Cutter in Sonipat, Pune, Bangalore, Belgaum, Ranchi, Cochin is the best for meeting the demands of animal husbandry, dairy farming, and personal use. We have a well-qualified and trained team of experts who supervise every detail during manufacturing to ensure the premium quality standard. We formulate the products in various shapes and sizes to meet our customer's distinct needs. Our manufactured Horizontal Chaff Cutter is designed for very little wastage of fodder; that's why it became the first choice. We are an ISO-9001:2005 certified company that delivers every machine at the best price.
Features Of Mini Chaff Cutter
Good performance and high efficiency
Small size, lightweight
easy to operate and move by oneself
Grasses cut length can easily adjust
process different lengths of fodder
High stability, lower noise
Have long service life
Get The Best Quality Mini Chaff Cutter From Us !
We are highly acclaimed among Mini Chaff Cutter Importers, Exporters, And Suppliers In Bhubaneswar, Panaji, Jaipur, Bilaspur, Bhopal, India who have well-equipped manufacturing facilities to formulate the top quality product. We strictly follow industry standards to deliver the order safely. So give us a call on the given number or drop your requirements via the website to enquire more.
We are manufacturer of mini chaff cutter in Vijayawada, Srinagar, Rajkot, Kanpur, Indore that is used to chop hay and straw so that the resultant material can be used as fodder. Having the operational capacity of 800 to 1000 kg per hour, this cutting machine is supplied in competitive price. The design of these machine is ideal for meeting the demands of animal husbandry, since there is very less wastage of fodder. The best feature of mini chaff cutter and Chaff Cutter Cum Hammer Mill is that the prepared fodder can be swallowed easily by the animals. Further, its digestion is also easy. Various material than can be cut in this chaffing equipment are Bajra, Barseem, Corn, Grass, Groundnut, Jowar, Paddy and Sugarcane.
Mini Chaff Cutter Application Areas
Dairy farms
Mushroom farms
Mini Chaff Cutter Specifications
| | |
| --- | --- |
| Automation Grade | Semi-Automatic |
| Cutting Capacity | 800 to 1000 kg/hr |
| Machine Feed | Dry material, Fresh material |
| Power | 1-3 HP |
| Power Source | Electric Motor, Diesel Engine |
Mini Chaff Cutter Product Details
| | |
| --- | --- |
| Power | 2-3HP, 1-3 HP. |
| Supply Phase | 220V |
| Number Of Blades | 4 |
| Cut Size | 10 MM to 15 MM |
| Capacity | 500-600 kg |
| Weight | 70 |
| Output | 800kg |
| Electric Motor | 2880,2,2880,2,2,2880 |
| Voltage | 220v |