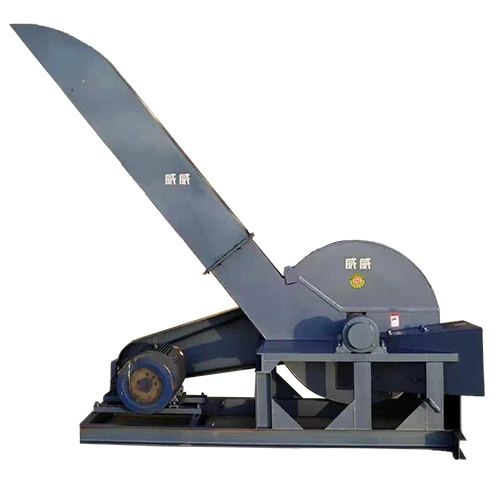 Top Wood Chipper Manufacturers In Mumbai,India
We provide a wide range of Wood Chipper in Mumbai, Agra, Jabalpur, Lucknow, Kolhapur, Sangli, that can chip wood of any nature (soft & medium hard, green or seasoned, etc.). Keyul Enterprise is a famous Wood Chipper Manufacturers Exporters and Suppliers in India. This high capacity Wood Chipper gives uninterrupted functioning and can chip 3 to 5 tons of wood every hour. These machines typically have a hopper that feeds branches into a chipping mechanism, usually a rotating blade or drum, to produce chips or smaller pieces. The in-feed size of the wood log provided in the machine can be anywhere from 2 to 18 inch diameters. The design of the machine features self-feeding by gravitational type. The Wood Chipper Machine also comes with a robust rotor disc where the cutter knives are countersunk. This ensures any stress generated from chipping gets absorbed by the back of the cutter knife. These chippers are made available in motor & PTO options, and the exact product sizing can be customized as per client requirements.
Wood Chipper Uses:
Uses of Wood Chips are mainly seen in the stock preparation section as a raw material or mainly as fuel in the manufacturing processes of the following areas:
Distilleries
Textile
Paper
Plywood
Pulp
Refineries
Sugar mills and other areas
Wood Chipper Main Features:
Sold with PTO soft & tractor operated
Can be operated on 10hp & 15hp engine motors
4 robust blades used on 1inch thick plate
Comes with a fix blade integrating 4 rotating blades
Blade dimension is of 20 mm
For swift portion cutting, steel blades are provided
Output rate is of 1 ton to 2 tons every hour
We manufactured the finest range of Wood Chipper Cum Pulverizer in India which makes us the leading Wood Chipper Manufacturers exporters and suppliers in Srinagar, Ludhiana, Udaipur, Surat, Panaji, and India. Click here to read Wood Chipper And Its Resourceful Uses.