Chaff Cutter Cum Hammer Mill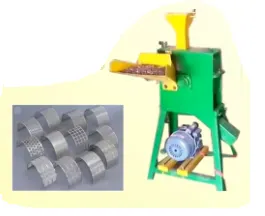 What is Chaff Cutter Cum Hammer Mill ?
A Chaff Cutter Cum Hammer Mill is a machine commonly used in the agricultural industry for processing and preparing animal feed. It combines the functionalities of a chaff cutter and a hammer mill into a single machine. Keyul Enterprise is the industry-leading Chaff Cutter Cum Hammer Mill manufacturers, exporters and suppliers in Mumbai, Hubli, Jalandhar, Belgaum, Bhopal, Nagpur, India. We provide superior quality Chaff Cutter Cum Hammer Mills which are available in suitable sizes. They are basically three in one machines which are used as a chaff cutter. They provide several advantages such as mushroom growing, worms composting of organic waste, trash steaming of sunflower, vines and many more. The offered Hammer Mill are featured by require less maintenance, high operational speed, high operational time and so on. They have sharp and accurate thickness hammer mill blades. The Chaff Cutter Cum Hammer Mills are highly effective.
Specifications of Chaff Cutter Cum Hammer Mill For Cattle Feed:
Operated by 2 HP and 3HP motor
Output for chaff cutter 200-300kg/hr
Petrol / diesel can also be used as operating fuel
Steel blade is used for chaff cutter
Suitable sized screen is provided for various grain sizes
Thickness of hammer mill blade 4mm
Total of 12 hammer mill blades are present, out which the chaff has 1 fixed and 2 rotating blades
Weight of the machine-60 kg.
Chaff Cutter Cum Hammer Mill Advantages:
We are Jumbo Hammer Mill and Medium Hammer Mill manufacturer, supplier of Chaff Cutter Cum Hammer Mill For Cattle Feed. This is actually a 3-in-1 machine, which may be used as a chaff cutter so that animal fodder can be made. This machine can also make granules for animals and fine powder. These hammer milling machines are also used for various other processes such as:
Composting landscape bedding
Mulching
Mushroom growing
Recycling with the clips
Worms composting of organic waste
Trash steaming of sunflower, vines
This cutter cum milling machine or Mini Hammer Mill is also suitable for composting the chopped materials. In this case, manure can be acquire within a month and this can be used in natural farming. This machine requires less maintenance and has high operational speed as well as time, which increases the overall productivity. We offer our Chaff Cutter Cum Hammer Mill in all over India including Kanpur, Udaipur, Cochin, Agra, Jabalpur, Indore, etc
Chaff Cutter Cum Hammer Mill Technical Specification
| | |
| --- | --- |
| Minimum Order Quantity | 1 Piece |
| No of Blade | 2 |
| Motor Power | 2 HP |
| Condition | New |
| Automation Grade | Semi-Automatic |