Floating Fish Feed Machine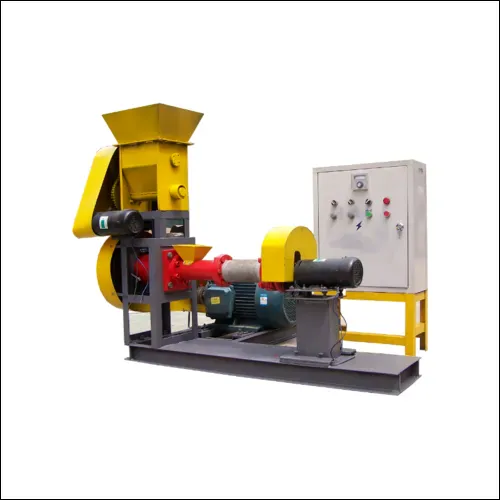 Keyul Enterprise is a determined Floating Fish Feed Machine manufacturers, exporters and suppliers in Mumbai, Pune, Srinagar, Indore, Ahmednagar, Kolhapur. Crafted from heavy duty materials, these Floating Fish Feed Machines that we supply and export integrates the combined type principle axis and comes with alterable processing conditions (dry method to the wet method & vice versa). These machines are expertly engineered to process bulk volumes of corn, bean, soybean, piglet fodder, soybean meal, cotton seed meal, rice bran etc. The barrel in alloy steel comes with the assurance of a long service life. These Fish Feed Making Machine are one of the most widely utilized equipment in the fodder processing industry.
Floating Fish Feed Machine Application:
Corn, soybeans animal waste, etc., can be fed as raw materials and then extruded into different nutrient rich products (usually neat and smooth pellets) in modified shapes and improved taste. These pellets are suitable for feeding fishes, birds, dogs, cats, rabbits, shrimps, etc. These Floating Fish Feed Making Machine enjoy high demand among professional farmers, small to medium sized feed mill owners, and are also employed across research institutions for various purposes. When pellets extruded by these equipment are fed to fishes, they can improve resistance of fishes to different diseases.

We have earned huge appreciation as a Floating Fish Feed Machine manufacturers, exporters and suppliers in Bhubaneswar, Coimbatore, Panaji, Bhopal, Kanpur, India.
Technical Details:
| | | | | | |
| --- | --- | --- | --- | --- | --- |
| Model | Power | Feeding Power | Cutting Power | Screw Diameter | OutPut Kg P/H |
| DAM-20-C | 20HP | 0.5HP | 1Hp | 60MM | 150-200 |