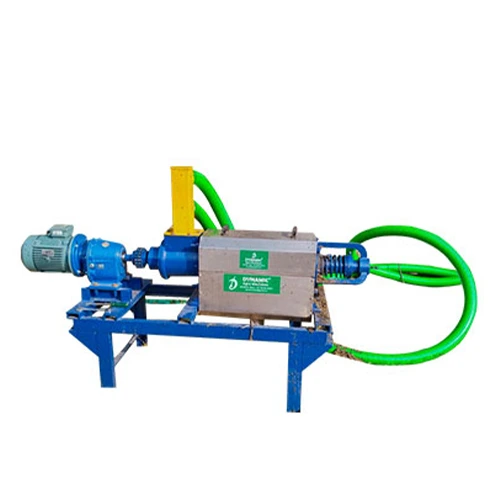 Top Cow Dung Dewatering Machine Manufacturers In Mumbai,India
Cow Dung Dewatering Machine is a machine that is used for the removal of extra water from fresh manure. It is more convenient to make organic fertilizer from cow dung and direct transportation after dewatering. So if you are searching for Cow Dung Dewatering Machine In Mandi, Mumbai, Kerala, Ludhiana, Ahmednagar, Kolhapur, Ranchi, Coimbatore, Vijayawada? Your search winds up at Keyul Enterprise. It uses a Cow Dung Dewatering Machine for organic farming to support sustainable agriculture practices. We understand the problem faced during the fresh manure to transform into fertilizer, so we, one of the eminent Cow Dung Dewatering Machine Manufacturers In India, Mumbai, bring a high technology-based machine that puts increased pressure and helps to remove the maximum water from the feces. We are trustworthy Cow Dung Dewatering Machine Manufacturers for small farms to meet your specific needs. We create machines with stainless steel to give improved rust resistance and you can get these from us at highly reasonable prices, as well as we are leading in Cow dung Dewatering Machine Manufacturers in India.
Durable Products For Effective Results
We are ISO-9001:2005 certified company with an in-house manufacturing unit to formulate international-grade products. we are reliable Cow Dung Dewatering Machine Manufacturers for Dairy Farms. Keyul Enterpise is Professional Cow Dung Dewatering Machine Manufacturers for Livestock Farms. We manufacture every product with great precision using the latest technology and advanced resources. It's Eco-friendly Cow Dung Dewatering Machine Manufacturer for Sustainable Agriculture - Making it easy to support green farming practices. Keyul Enterprise has the most efficient design experience in the market for Cow Dung Dewatering Machine. We are backed by highly trained and passionate professionals who precisely supervise every step of the process to give the best quality to our end users. We are the top performing Cow Dung Dewatering Machine Manufacturer for Backyard Poultry - Keep your farm clean, hygienic and efficient. We work on our toes to manufacture safe and reliable Cow Dung Dewatering Machine in Kullu, Bilaspur, Udaipur, Nagpur, Raipur, Jabalpur, Lucknow, Agra at a reasonable price. Get the most out of your investment with our affordable Cow Dung Dewatering Machine Manufacturers.
Benefits Of Cow Dung Dewatering Machine
Compact and rigid structure
Premium quality raw material
High functionality
Easy to operate and install
Need no professional training to handle
Come at an affordable price
Dedicated For Meeting Customized Orders
So why go here and there? We, one of the trusted Cow Dung Dewatering Machine Importers, Exporters, And Suppliers In Bangalore, Hubli, Surat, Kanpur, Meerut India, are here to take your customized needs. We have enough resources to handle your orders safely without compromising quality. Get the best Cow Dung Dewatering Machine at a competitive price in India. So submit your direct enquiry on the website or call our experts to know more. We are happy to assist you.
Cow dung Dewatering Screw Press Machine is a high technology based machine that features a cylinder filtering drum and also has diameter change screw that forms the close compress room. When in motion, there is a steady increase in the inner diameter while the outer diameter remains constant. For shaft dewatering & for automatic control, there is a specially designed pneumatic backpressure disc provided at the screw end. In this Cow dung Dewatering Screw Press Machine, the extrusion spiral includes twins wing blades that are robustly designed using only stainless steel for giving improved rust resistance. Keyul Enterprise supports local businesses and ensures quality with locally sourced Cow Dung Dewatering Machine from reliable manufacturers for your farm needs. A high strength Filter Sieve in stainless steel is also designed, which can be modified upon client request. We are Leading Cow Dung Dewatering Machine Manufacturers for Poultry Farms. You can also buy Cattle Feed Making Machine from us. Click here to read What Is Cow Dung Dewatering and how It helps In Agriculture Industry?
Working Principle:
When the screw shaft is in motion, the cow dung gets propelled forward after entering the screw press.
The close room then becomes smaller and this reduction in the space size leads the filtrate being squeezed out when the cow dung gets pushed via the backpressure disc. There is then a discharge of the cow dung from between the backpressure disc & the screw end.
The filtrate then passes through a screen fitted in the machine and gets collected at the strategically placed collecting box at the lower end of the machine.
The cow dung is free of any moisture and gets collected in a dried form and is therefore very effective.
Auto controlling operation of the pneumatic backpressure disc ensures the cow dung also has a good quality consistency. As the discharging pressure can be regulated, the discharged cow dung features completely uniform and consistent dryness.
Technical Specification:
| | |
| --- | --- |
| Model | DAM-FFDF |
| Capacity ( CBM / Hr) | 150-200 KG / Hr |
| Electric Motor | 20 H.P. |
Product Details
| | |
| --- | --- |
| Electric Motor | 4 H.P |
| Model | DAM-FFDF |
| Voltage | 380V |
| Capacity | 150-200 kg/hr |